HOW-TO-GUIDE: USE ASSESSIO WITH TEAMTAILOR
Are you ready to start using Assessios assessments through Teamtailor? You are just a few steps away! Please follow this guide to get started. If you have any trouble or questions at all, do not hesitate to contact us at support@assessio.se. Let's go!
The integration with Teamtailor supports the use of

Seamless multi-step, competency profile-based project templates.
Single-step (optionally competency profile-based) project templates.
Screening algorithm-based project templates.
A project template for Teamtailor must be either a

seamless multi-step competency-based project or single-step optionally competency-based project

, with the following supported assessment types (Oct 2020):

Adaptive Matrigma

Matrigma Classic

MAP (V1 & V2)

MAP Essence

MINT

Match-V

Service First
1. Create "project templates" in Ascend. Instructions will follow in this presentation but you can also book an hour with a consultant to help build a good competency profile. A project-template need to follow certain criteria in order to work via Teamtailor:
A. Competency-based (one profile)
B. Unified assessment process
C. More than one test
2. An e-mail sent from you to our support@assessio.se with a written request that we should add your organization in Teamtailor
3. Either you as client or us at Assessio support needs to contact Teamtailor and ask them to to provide our support support@assessio.se with a "API key" for your account and then your project templates will then be available as "Triggers" in Teamtailor.
1. Create a template in Ascend
Log in and click on "Competency-based"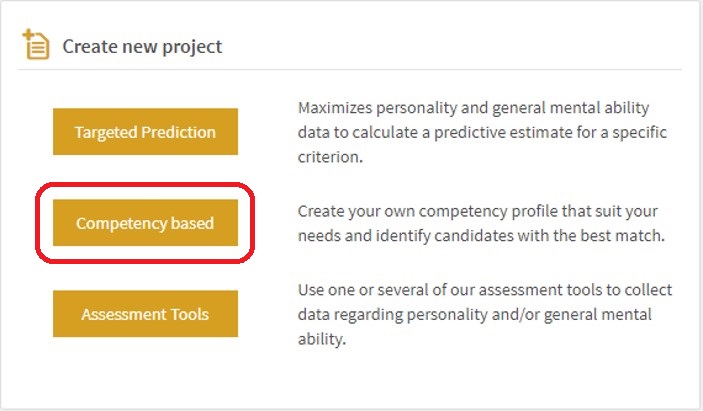 Create a new profile or choose a previously created profile
The profile you choose will determine the criteria that the candidate will match against
2. Create a new profile
3. Choose a previously created profile

4. Give the "project template" a name.
The name of the project is the one that you will see in Teamtailor later on

5. Choose MAP and Matrigma
It's important that you use both MAP and Matrigma in order for a result to be generated in Teamtailor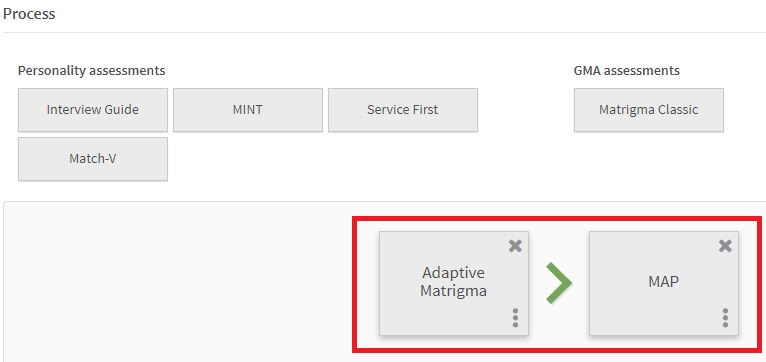 It's important that you click on the box "Unified assessment process", then click on "Next"
6. Click on "Create project"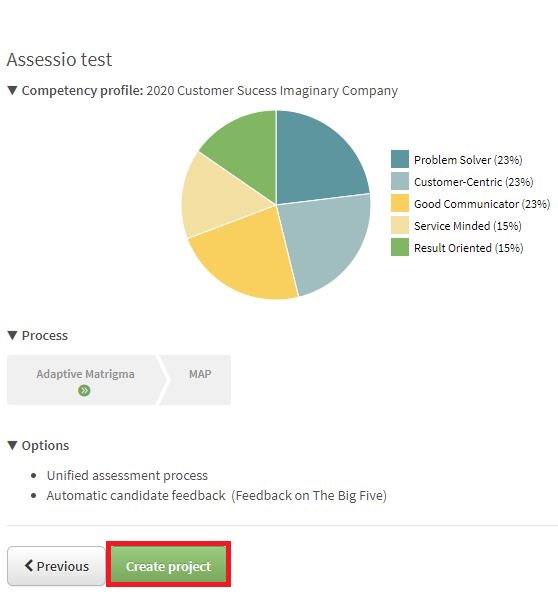 7. Go to the project site and click on "Edit this project"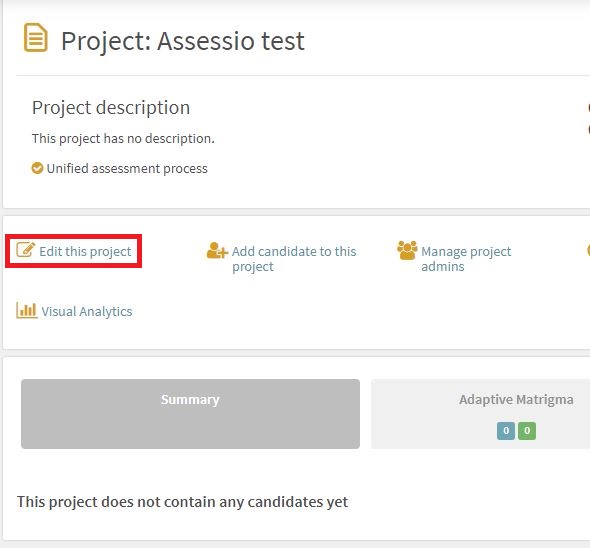 8. Click on the box "Enable use as a project template"
9. Then click on "Update project"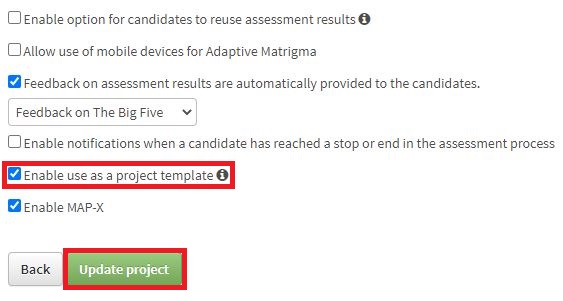 Important notes
All templates that you create can be selected in Teamtailor (rename them so you know what the profiles are)
You enable Assessment in a process by adding Assessio as a trigger to a job
In Teamtailor you will see the match score and competency report for the candidates
Ascend creates a twin project with the same ID as in Teamtailor so you can go in and see the MAP and MAP-X report as well as looking at the candidates in Visuals and match them against other criteria.
How to use Teamtailor
1. Sign in to your Teamtailor account and go to the "Jobs" category. Choose the role that you want to send out assessments for.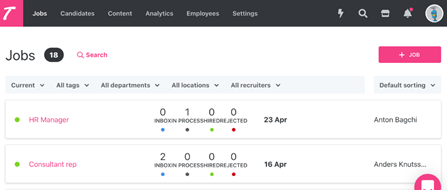 2. Klick on "Triggers".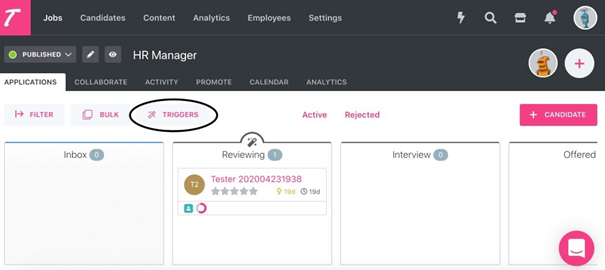 3. In this view, you select at what stage you want the candidates to receive the assessments. In the picture above, you can see what it looks like when you have decided to send out assessments in the reviewing stage.
Choose "Inbox" if you want assessments to be automatically sent out to all candidates. If you want to manually move your candidates to a certain stage where they receive the assessments, click on the plus for the preferable stage. All candidates that are moved to this stage will automatically be sent an invitation.
Note: Assessio recommends you use assessments as early as possible in the process. In that way, all your candidates will be treated equally, and you can be sure you do not miss out on your dream candidate because of factors like biases or a poorly written resume.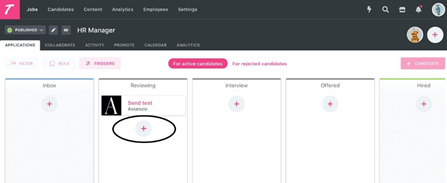 4. After you have clicked on the plus for your preferable stage, choose Assessio in the list of options for "Add trigger".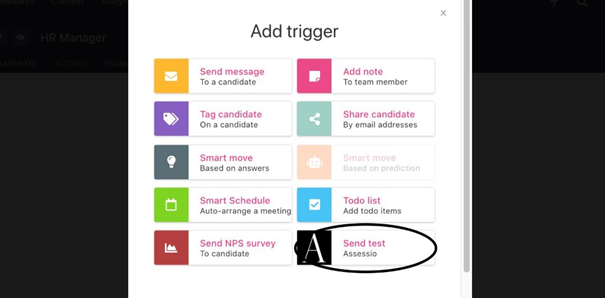 5. Choose your Ascend project template that you have created in Ascend and choose the language you want to use in the assessments. If you want a candidate to be automatically moved to the next stage based on their result, tick the "Move candidates when complete" and set the preferable match score. Finally, click "Add trigger".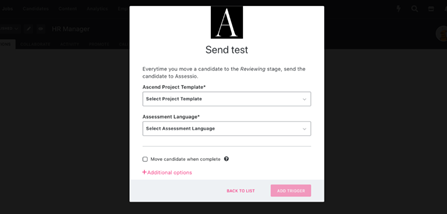 You are done! If you have any questions, please give us a call at +46 877 509 10 or send us a message at support@assessio.se.