HOW-TO-GUIDE: USE ASSESSIO WITH VARBI
Are you ready to start using Assessios assessments through Varbi? You are just a few steps away! Please follow this guide to get started. If you have any trouble or questions at all, do not hesitate to contact us at support@assessio.se. Let's go!
1. Create "project templates" in Ascend. Instructions will follow in this presentation but you can also book an hour with a consultant to help build a good competency profile. A project-template need to follow certain criteria in order to work via Varbi:
A. Competency-based (one profile)
B. Unified assessment process
C. More than one test
2. An e-mail sent from you to our support@assessio.se with a written request that we should add your organization in Varbi
3. Either you as client or us at Assessio support needs to contact Varbi and ask them to to provide our support support@assessio.se with a "API key" for your account and then your project templates will then be available as "Triggers" in Varbi.
1. Create a template in Ascend
Log in and click on "Competency-based"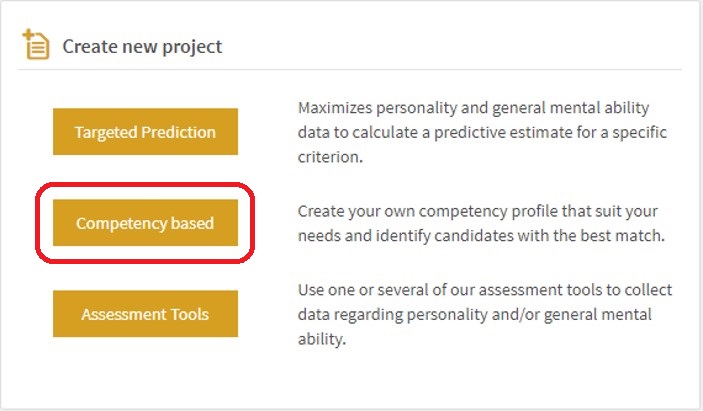 Create a new profile or choose a previously created profile
The profile you choose will determine the criteria that the candidate will match against
2. Create a new profile
3. Choose a previously created profile

4. Give the "project template" a name.
The name of the project is the one that you will see in Teamtailor later on

5. Choose MAP and Matrigma
It's important that you use both MAP and Matrigma in order for a result to be generated in Varbi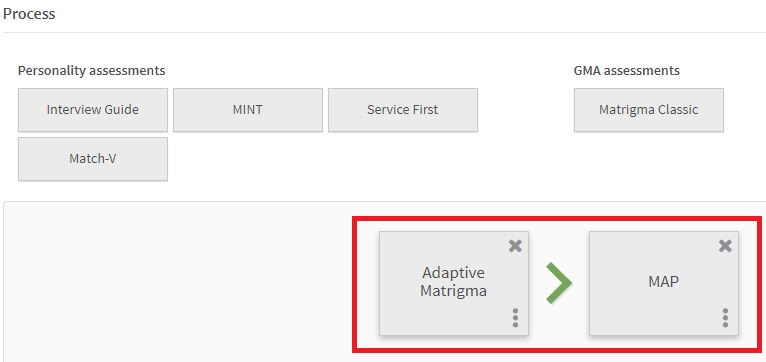 It's important that you click on the box "Unified assessment process", then click on "Next"
6. Click on "Create project"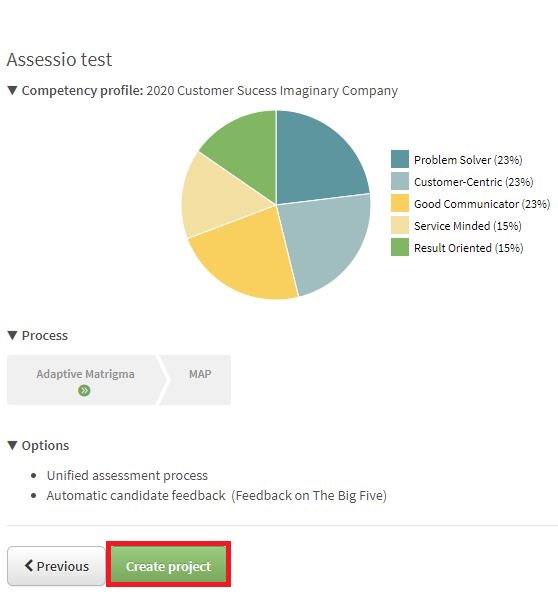 7. Go to the project site and click on "Edit this project"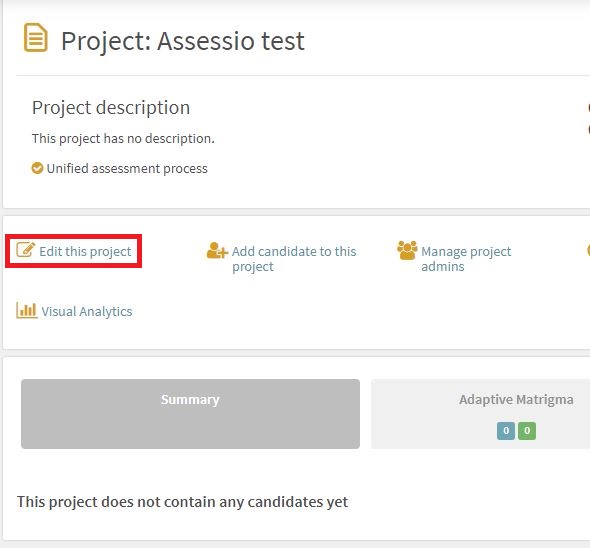 8.Click on the box "Enable use as a project template"
9. Then click on "Update project"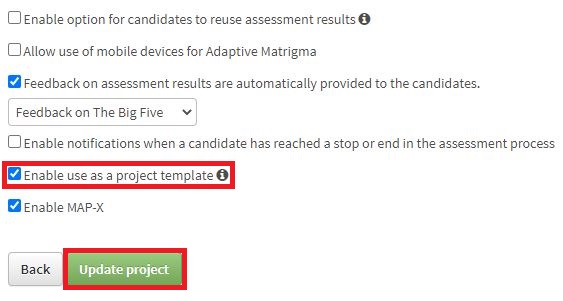 Important notes
All templates that you create can be selected in Varbi (rename them so you know what the profiles are)
You enable Assessment in a process by adding Assessio as a trigger to a job
In Varbi you will see the match score and competency report for the candidates
Ascend creates a twin project with the same ID as in Varbi so you can go in and see the MAP and MAP-X report as well as looking at the candidates in Visuals and match them against other criteria.
1. Create Project Templates in Varbi
The customer creates the projects they want to be able to use in Varbi. This is done in
Ascend's interface and with the help of Assessio's expertise. Importantly, mark the created
projects as templates by ticking "Enable use as project template" in Ascend.
With the current connection, you can only use Competency profiles from Ascend, with the
combination of MAP and Matrigma. Remember to check the box for Unified assessment
process. Individual tests can NOT be sent out at present.
2. Create Connections in Varbi
To make the created project templates available for recruitment cases in Varbi, go to
Admin-> Settings-> Ascend. There, you create links between the projects in Ascend and
organizational levels in Varbi. You can either choose to have an Ascend project available to
the entire organization, or to one or more departments.
You also choose which test process to apply: automatic to all applicants, automatic to
qualified, or manual to selected candidates.
If desired, you can also choose whether a competency report on the candidate's results
should be available in Varbi for anyone with access to the recruitment case.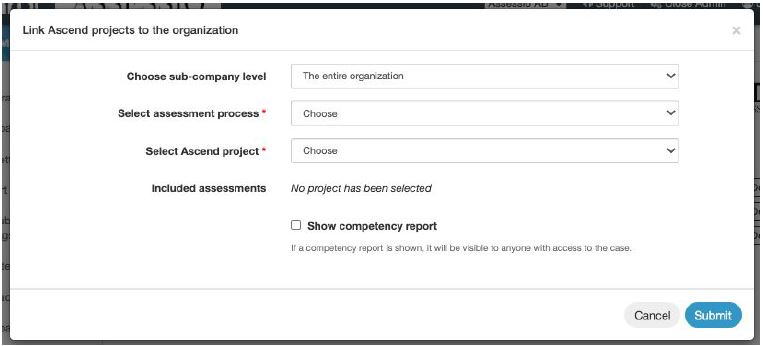 3. Message Templates
The message sent to the candidate for the various test processes is governed by message
templates. These are edited as usual by going to Admin-> Message Templates and selecting
the right template on the left under "Templates for automatic communication". There are also
links to these templates directly in the Ascend Settings view in Admin.


4. Recruitment Cases
If Ascend is enabled for a customer and there are projects available for the case, then the
"Select Ascend project" section will appear in the edit mode for the advert.
In order for a project to be selectable in the edit mode, it must either be linked to "the whole
organization" or to a department that is above the department to which the recruitment
case is linked in the organizational tree.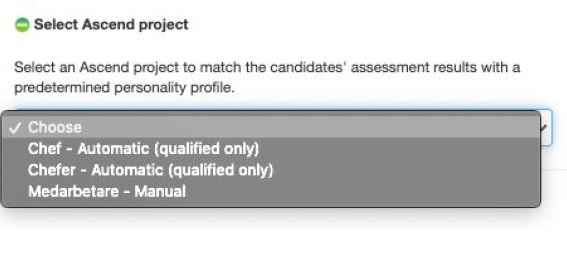 5. Automatic Testing Processes
If the case is set up with an automatic testing process, then the candidate will automatically
be requested to do the test as soon as they have submitted their application.
When the candidate clicks on "Submit the application", they come to an intermediate page
with information that there are one or more tests linked to the application, as well as a
button that takes the candidate to the test when you click on it. An email is also sent to the
candidate with the content of the message template (described above).
The initial candidate status will be "Test Sent" instead of "New".
For the test process "Automatic for all applicants", this behaviour will apply to all applicants
for the vacancy. For "Automatic (qualified only)", only those who answered the qualification
questions will be given the opportunity to do tests. Unqualified candidates are sent to their
profile instead and receive a confirmation e-mail about the submitted application as usual.
6. Manual Testing Process
If the case is set up with an Ascend project and a manual test process, then a button will appear
in the candidate list.
You select which candidates you want to send tests to and then you get a box where you can
write your message. This is pre-filled with the contents of the message template for the manual
testing process.
7. Test Results and Reports
After the candidate has completed the tests, a signal is sent from Ascend to Varbi and then Varbi retrieves and saves the candidate's results.
Currently, only results in the form of a match percentage against a competency profile are
supported. This result is displayed as a column in the application list.

After the candidate has completed the tests, you also see the button "Test results" where there
is a little more detailed information about the candidate's test, and the opportunity to create a
competency report if this was activated for the project when you linked it in Admin.